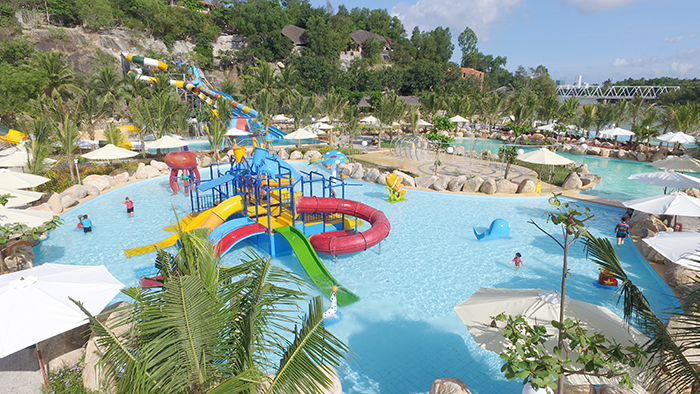 Mineral mud baths are a special tourist activity that is loved by many for their interesting experiences regarding beauty and health care. A bath of hot mineral mud contains inorganic and organic minerals that help restore body function and balance the activity of the nervous system as the mineral mud contains chemical and physiological properties and ingredients that help relax and stretch muscles, stimulate the regeneration of bone cells, muscles, and nerves, and reduce inflammation effectively. In the mineral mud, it contains many beneficial micro-nutrients and also absorbs moisture. Soaking in the mineral mud not only helps your skin detoxify and exfoliate, but also helps to improve blood circulation, prevent symptoms of aging and rejuvenate the skin. Mineral mud contains high antimicrobial properties. Hence, mineral mud also helps to treat skin diseases by helping skin regenerate more quickly by the process of soaking in hot mineral mud.
Coming to Nha Trang, you can easily find the highest quality mud bathing centers using natural mineral mud combined with great beauty treatments such as: Thap Ba, Tram Trung, I-Resort, Gallina, and Hon Tam...; in which I-Resort is one of the natural hot mineral mud bathing spots that is guaranteed to bring you many wonderful experiences.
An open space of up to 12 ha, located about 4 km from the center of Nha Trang city, is I-Resort, with top-quality hot mineral mud services. I-Resort provides customers with the most unique and popular hot mineral springs today, offering a wellness solution combining relaxation with exciting entertainment.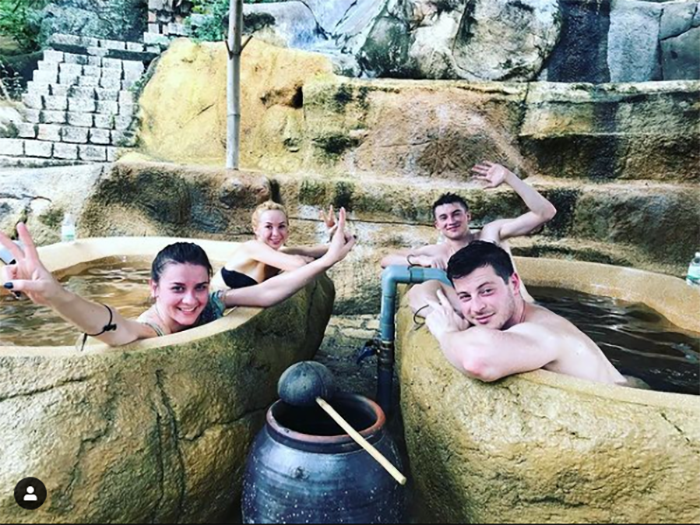 Similar to a serene green oasis with rustic and simple architecture using materials such as wood, stone, and leaves..., I-Resort gives visitors a refreshing and relaxing feeling through unique spa-style mud bath services. At the same time, visiting the first mineral water park in Vietnam with 4 pools and a unique waterfall system in I-Resort will definitely be a pleasant experience that anyone who comes to Nha Trang cannot miss. Not only that, I-Resort also offers you the opportunity to experience many diverse and rich activities, such as: swimming in the artificial sea, immersing in waterfalls, peaceful caves, etc.
I-Resort has a wide range of mud bathing services, from standard to premium. Experience the standard service at I-Resort. Visitors will experience full relaxation with massage treatments and stress relief when immersed in the mineral mud. The bathis rich in nutrients with the effect of beautifying, detoxifying, and purifying the body, helping to soften and brighten the skin. Besides, you will love to refresh yourself with the cool water of the hydraulic jacuzzi system, get a natural massage, and freely swim when experiencing the premium service here.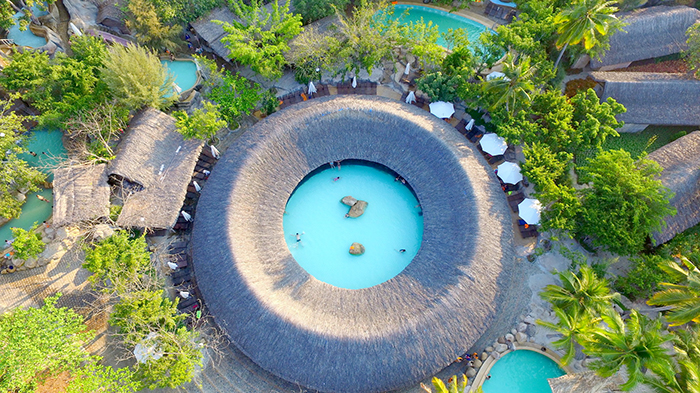 The plus for mud bathing in I-Resort is the mud bath area designed in harmony with nature, with modern equipment and mud baths carved in natural stone intertwined among lush greenery in a spacious, open space. Taking a warm herbal bath after a mud bath to relax your body and smooth your skin is truly an exciting experience.
Currently, I-Resort is offering services from standard to premium, with a diverse service price range for you to choose from. Not only that, I-Resort also caters to those who want to experience mud baths separately or in groups, depending on the number of guests and the length of the experience.
Anh Minh
(Vietnam Today 7.2022)